Gary Hill Selected Works + Catalogue Raisonné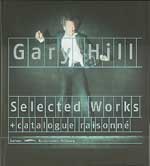 This is the most comprehensive Gary Hill book available. Besides being a catalog for a large show of his in Wolfsburg Germany in 2001, it also is a "Catalogue Raisonné", meaning that it contains information on every installation, performance, and video tape he has ever made. There are hundreds of pictures, and very detailed information about each of his pieces. Plus a biography, bibliography and several essays.
Read more about it here.
Get this incredible hard cover book for 30% off at Amazon.com