Withershins (785K)


At the Institute of Contemporary Art in Philadelphia, PA in the spring of 1996. This is low resolution, 18 second video and sound.
Primarily Speaking (2.8MB)


At Spiral in Tokyo Japan in the spring of 1992. This is low resolution video and sound.
Dervish (1.8MB)


At the Carnegie International in Pittsburgh, PA in the winter of 1995-96. This piece is installed in a very dark room and is very hard to document. This low resolution video and sound clip shows the tower in the middle of the room and a couple of seconds of blurry video. It does not represent the piece properly but only gives you a look at the electro-mechanical device that we built for it. In reality when you see the exhibition you can not see the machine. To experience this piece you must see it in person because no video or photo can capture what you will see.
Gary Hill Selected Works + Catalogue Raisonné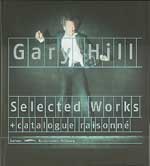 This is the most comprehensive Gary Hill book available. Besides being a catalog for a large show of his in Wolfsburg Germany in 2001, it also is a "Catalogue Raisonné", meaning that it contains information on every installation, performance, and video tape he has ever made. There are hundreds of pictures, and very detailed information about each of his pieces. Plus a biography, bibliography and several essays.
Read more about it here.
Get this incredible hard cover book for 30% off at Amazon.com